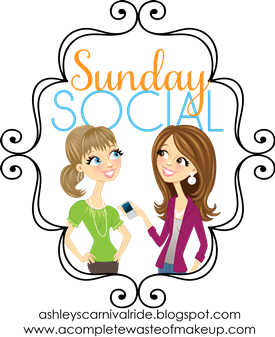 Linking up with Neely for Sunday Social! I'm a little late...but I've been sick with horrible allergies and now I can't sleep...so here goes.
1. Favorite thing to do on a rainy day? Read and watch Lifetime movies!
2. Favorite thing to do on a Summer weekend? Do some type of outdoor activity, eat on the patio at a restaurant...especially by the lake!, yard work, take Ally to the dog park.
3. Favorite Spring accessory? Sandals!
4. Favorite way to spend a Winter day? Sit by the fire place with a cinnamon candle going and read magazines or bake!
5. What is your favorite season and why? Spring AND Fall...I don't want to choose! I love them both because it isn't too hot or too cold. Fall...I love the smell of fall, the crisp air, the changing of the leaves, and pumpkin candles. Spring....I love the freshness of everything and daylight savings!
6. Best birthday you ever had? I don't really have a specific year...I have many memories. Every year growing up, I always had a pool party at our local community pool. We would cook out, and my Mom would always make her famous brownie "sheet" cake and also order a personalized cake. We would have ice cream and I remember her always going to several grocery stores to get the gallons of fruit punch. All of my cousins and friends would come. When we would get home, we'd always put my all of my presents on the kitchen table and take pictures! Such good memories!!