A co-worker recently shared this amazingly EASY recipe with me and I decided to test it out this weekend. The word "easy" doesn't even begin to do this recipe justice. It's effortless, painless, uncomplicated...you get the idea! (btw, I just inserted the word easy into Word for laughs and those are the words I came up with...I thought they were more dramatic)
What You Need:
Roast - I used a chuck roast that I got from my dad (he owns cattle so I'm kinda spoiled with my meat!) That kinda sounded dirty...get your minds out of the gutter and back to the kitchen!
1 Can of Root Beer (I used diet)
1 Bottle of BBQ
What You Do:
1. Place roast in crock pot and pour can of root beer on top. Note - it will not cover the roast.
2. Cook on low for about 8-10 hours until roast falls apart.
3. Drain and shred.
4. Pour BBQ on top and stir to fully coat meat with sauce.
I made mine into sandwiches but you could do so much with this: top potatoes, wrap in tortillas or even have by itself .
You will thank me after you have tried this recipe...trust me! :) Enjoy!

Linking up with Ali @ JamHands
and Jessah @ Dreaming of Dimples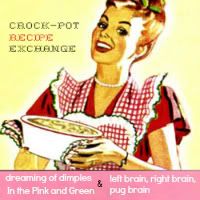 go check them out!
Ohhhh....and last week, my recipe was FEATURED on This Gal Cooks on her weekly link up, Marvelous Mondays!